Cancer Care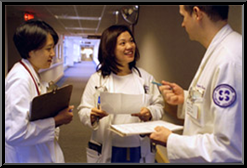 The Foundation has been an advocate for raising the standards of cancer care in the Midwest region and assuring that direct cancer services are available to cancer patients in the Chicago Metro area. It has funded specific health care programs, community-based and psychosocial support services, development of new treatments, and physician and patient education services.
An area of interest to the Foundation is funding support services for individuals diagnosed with cancer, their families and caregivers. Cancer support includes an array of services such as psycho-oncology support groups, healthy living programs, patient education programs, and primary palliative care education programs.
Recently, the Foundation has employed an impact framework which provides a basic outline of the goals for the Foundation's grantmaking. For the Cancer program area, the Foundation has identified strategies that can enable health care providers to gain effective tools and resources in providing supportive oncology (care from diagnosis through end of life). The Impact Plan is built on the Foundation's vision that optimally patients have access to services, will be engaged in their cancer treatment and empowered to make decisions regarding their care.
The Cancer Impact Plan is intended to inform potential grantees as to the particular strategies the Foundation seeks to fund. The Foundation welcomes potential grantees to review the Cancer Impact Plan to assess and determine the best possible strategy to meet the Foundation's intended impact. Potential grantees should also review the grantmaking process which is available on this website to assess the appropriate fit for submitting a letter of inquiry, as the first approach to the Foundation.